Do you know when your smartphone crashes and you feel like throwing it against the wall? And have you ever wondered if, depending on the force of the pitch, your old cell phone would give you a new device?
Well, that's what happened last Sunday (22), when Itaipu Binacional organized an unusual competition in Foz do Iguaçu (PR): the 12th edition of the South American Mobile Pitch Tournament.
No, you didn't read it wrong: 5,000 people gathered to watch a contest that tested the skills of 284 pitchers.
The tournament itself was divided into six categories: female and male adult (participants over 16 years old), female and male youth (participants between 12 and 15 years old) and male and female children (participants up to 11 years old). In addition to trophies for the top three, the winners in each category took home a Xiaomi Mi 8 Lite smartphone.
Tournament attracted people of various ages in Foz do Iguaçu (PR)
Image: Rubens Fraulini / Itaipu Binacional
And speaking of winners, who won the adult female category was Janaína Fagundes, who is a lieutenant in the Fire Department. Her pitch reached 37.79 meters away. Awesome, huh?
In the adult male Franck Rodrigues de Souza sent the old device away: with absurd 76.30 meters, he dominated the category.
In the male youth, Lucas Gehardt led with 45.06 meters. Already among the girls Fernanda Luiza Pereira fired the cell phone 29.76 meters away.
To close, the child category. Among the girls, Rafaeli Cristine Paulus made a shot of 30.50 meters, while Arthur Balsan Arruda won among the boys, with 29.60 meters.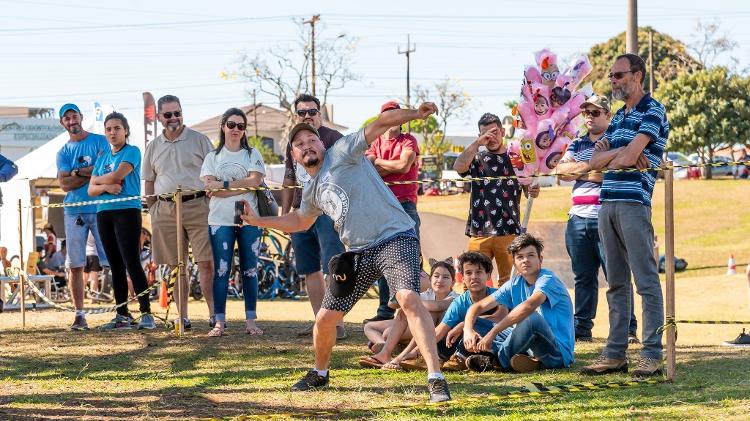 Cell Phone Throwing Event is in its 12th edition
Image: Rubens Fraulini / Itaipu Binacional
Did the anger of the old, bugged cell phone boost the pitches?
Noble cause
Tournament participants could register in two ways: by taking an old cell phone to be thrown or two pounds of non-perishable food. In the second case, the event organization itself provided a disused device.
The event held by the hydroelectric is, in fact, an action that aims to draw attention to the production of electronic waste. This is even a worldwide problem, since in 2017 alone more than 44 million tons of waste were generated, according to data from the United Nations Coalition on Electronic Waste.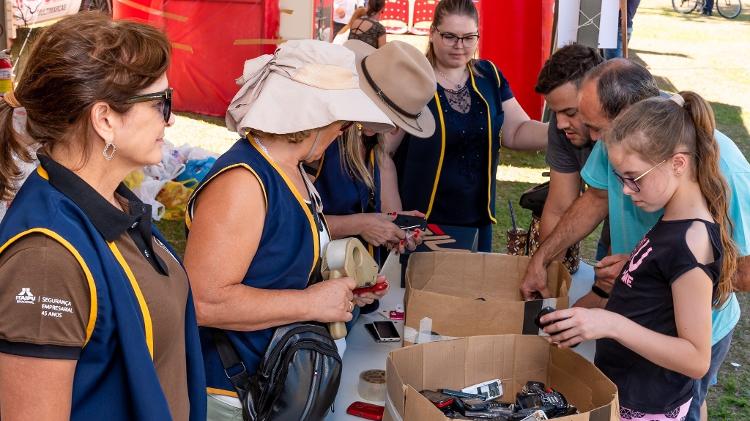 Competition has a noble cause: collecting electronic waste and reducing pollution caused by irregular disposal
Image: Rubens Fraulini / Itaipu Binacional
In addition, there was an incentive for people to take out disused electronics for recycling. According to the organization, around 3.3 tons of electronic waste were collected, including televisions, cell phones, radios, monitors and other devices.
In relation to food, 13 tons were collected, which will be passed on to 24 assistance entities from Foz do Iguaçu and the region.
Other championships
If you are interested in the dispute and live far from Foz do Iguaçu, be aware that other cities already organize championships of this type. In Toledo (PR), the 1st Cellular Throw Tournament is already scheduled for October 13th, at People's Park. Already in Chapadão do Sul (MS), there is a similar tournament that takes place since 2017.
In both cases, the competitions also repeat actions of environmental and social responsibility, with the collection of electronic waste for recycling and the collection of food for welfare entities.
FOLLOW TILT ON SOCIAL NETWORKS