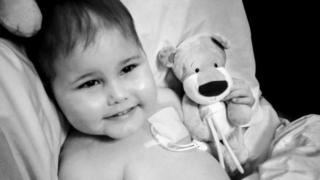 Image copyright
Family Brochure
Image subtitle
Oscar was treated at Birmingham Children's Hospital
The family of a five-year-old boy with leukemia said his cancer returned after he underwent a stem cell transplant.
Oscar Saxelby-Lee of Worcester had a transplant in May, but tests showed cancer in his cells.
His family plans to raise £ 500,000 for additional treatment, which they said was not available to him at the NHS.
His mother, Olivia, said that without them they didn't know if he would be six in February.
Over the past nine months, Oscar has been treated at the Birmingham Children's Hospital for acute lymphoblastic leukemia.
Image copyright
Family Brochure
Image subtitle
Olivia Saxelby says family is "really fighting" after breaking news
His family appealed to potential donors to join the stem cell registry after learning that their chances of survival would "severely diminish" without a transplant.
A match was found, but three months after his transplant tests found cancer in his cells, his mother said.
Saxelby said the nature of his condition meant that cancer "would increase rapidly."
She said he now has two options, a second stem cell transplant, which she says is only funded by the NHS if a patient relapses after 12 months.
Latest West Midlands News
Otherwise, Oscar could participate in a trial of CAR-T therapy in Singapore, the same treatment that Shropshire's Zac Oliver underwent for his leukemia, another procedure that Saxelby said is not available to him at the NHS.
"Without that, we don't even know if he'll see his sixth birthday now, which is really hard, but we can't give up on him, not as long as he's so strong," Saxelby said.
So far, over £ 38,000 has been raised through an online donation page.
NHS England has been contacted for comment.
Follow BBC West Midlands on Facebook, in Twitterand sign up for local news updates right on your phone.