The Chinese Nex 3 is no big deal, but it surpasses iPhone 11 in connectivity
When Steve Jobs haunted the world with the first model of the iPhone in 2007, the device did not support 3G networks. Just a year late, Apple's iconic gadget now supports a type of connection that was already common to high-end Nokia and Samsung devices at the time.
More than a decade after this episode, the object of desire that queues at Apple stores with each release remains lagging behind in adopting a number of new technologies. Now, however, losing not only to renowned rivals like Samsung, but to challengers until recently unimportant in the smartphone market, such as Chinese brands Huawei, Xiaomi, ZTE, Oppo and Vivo. All of these, for example, already have a 5G connection, a non-existent item in the new iPhone.
Last week, the image below, for example, went viral. It shows that Huawei's Mate 20 Pro, launched almost a year ago, has a higher-resolution screen, a more powerful camera, is lighter, and of course cheaper than the iPhone 11, which hasn't even hit the market yet. Some features of the brand new iPhone, such as the ability to make wide-angle photos (let you put more people in the frame), have been a native technology of Chinese devices for over two years.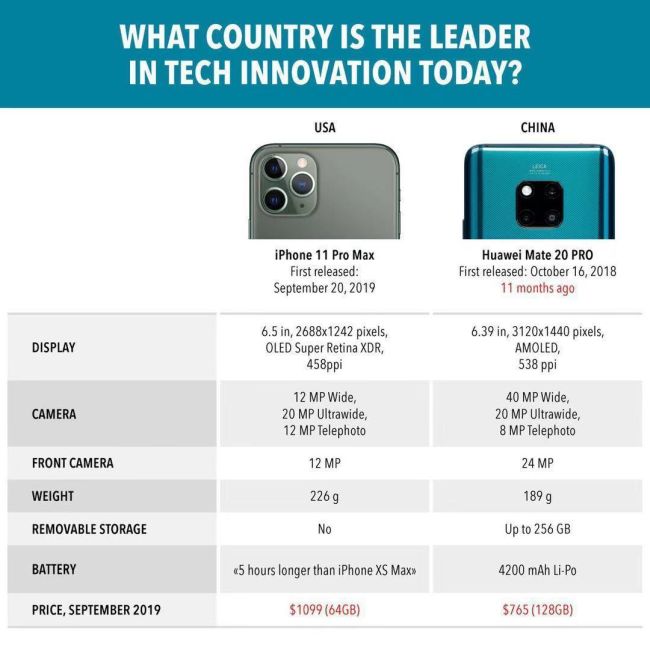 China's technological advantage, however, is not only in the quality of the devices it manufactures. In the country, 5G networks are already available to 167 million people, covering 12 major cities of the country, including Shanghai and Guangzhou, according to a report published in June by consulting firm Abacus.
According to IDC study, in the first 8 months of 2019 alone, 15 million 5G smartphone units were sold in China. By 2020, this number is expected to reach 57 million pieces. The country is also the largest holder of 5G technology patents, just ahead of South Koreans, Americans and Japanese.
It has symbolic power that Vivo (not to be confused with the brand of the Spanish group Telefonica) this week launch its model Nex 3, with 5G connectivity. In China, it is known that Vivo is behind the technology race, well behind players like Xiaomi, Oppo, Huawei and even state-owned ZTE. Even so, in the connectivity item, it is more advanced than the iPhone 11.
OK I understand. Apple is charming, its design is beautiful, and its products have an unrivaled aura of innovation. At this point, let's face it, the Chinese are well behind the Americans, who know how to build brands and market much better than their rivals in the East.