A portable device, equipped with artificial intelligence, transforms cough sounds into health data. This can help us understand how contamination by influenza and other viral respiratory diseases, such as Covid-19 and Sars, works and to prevent and contain pandemics.
FluSense was developed by researchers at the University of Massachusetts Amherst, in the United States. According to them, the platform was designed for hospitals, waiting rooms for health services and large public spaces. The device detects coughing and sneezing sounds and measures the size of the crowds, analyzing the data in real time.
Information can, for example, contribute to determining the best time for vaccination campaigns, indicating travel restrictions and targeting medical supplies more intelligently, among other measures that can save lives.
FluSense is made up of many low-cost microphones, a thermal camera and a neural computing mechanism, connected to a tiny Raspberry Pi computer. Thus, it is able to capture initial symptoms of diseases of the respiratory tract.
First, a "cough model" was developed in the laboratory. Then, the researchers trained the system to count people on thermal images. "Our goal is to build forecasting models at the population level, not individually," said Rahman. Sensitive personal information, such as identifiable lines and images, is not stored.
To test FluSense in the real world, it was placed inside a rectangular box the size of a thick book, in four waiting rooms at the university clinic. Between December 2018 and July 2019, the platform collected and analyzed more than 350,000 thermal images and 21 million audios.
The researchers found that the device was able to accurately predict the daily rates of diagnoses of respiratory diseases, such as influenza and colds, at the clinic.

"I have been interested in non-verbal sounds from our organism for a long time. I thought that if we could capture coughing or sneezing noises in public spaces, where many people naturally interact, we could use this information as a new source of data to predict epidemiological trends. "said Tauhidur Rahman, co-author of the study and an assistant professor of information and computer science, in the university statement.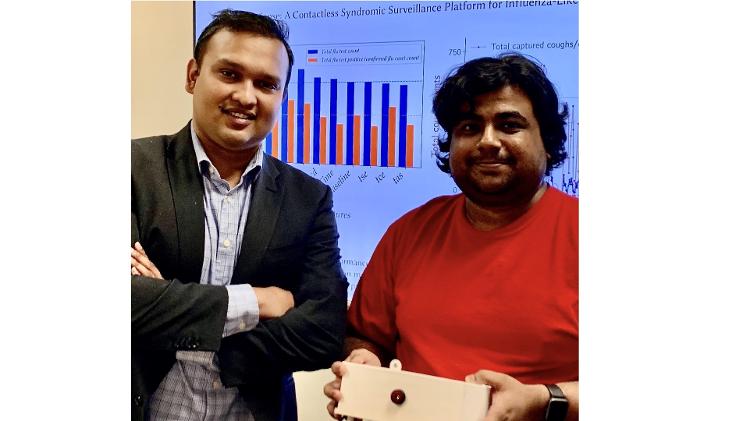 Tauhidur Rahman (left) and Forsad Al Hossain (right), co-authors of the FluSense project
Image: Disclosure / Umass Amherst
FluSense is an example of the power of combining artificial intelligence with cutting-edge computing, allowing data to be collected and analyzed at the source.
"We are trying to take machine learning to the extreme. All the processing takes place here. These systems are becoming cheaper, powerful and portable," said Forsad Al Hossain, Ph.D student and author of the research, about the small components inside FluSense.
The next step is to test the device in other public areas and geographic locations, validating its effectiveness beyond the university environment. The study results were published by the Association for Computing Machinery (ACM).
FOLLOW TILT ON SOCIAL NETWORKS