Image copyright
PA Media
Time is running out to finalize a test, track and track a strategy to prevent a possible second outbreak of coronavirus cases, NHS chiefs said.
The NHS Confederation warned of "serious" consequences for staff and patients if the right system was not established quickly.
He said blocking measures should not be eased until a clear plan is in place.
It follows the prime minister's promise to introduce an "innovative" contact tracking system in England from June.
Contact tracking identifies those who may have come into contact with an infected person – through an application or over the phone and email – so that they can prevent the potential transmission of the disease.
Niall Dickson, the confederation's chief executive, who represents health and care leaders, welcomed Boris Johnson's promise made in the prime minister's questions on Wednesday.
But in a letter to Health Secretary Matt Hancock, Dickson said that without a clear strategy, the UK is at greater risk of suffering a second spike in the virus and emphasizes the importance of involving local health organizations in the plan.
He said a testing, tracking and tracking strategy should have been implemented earlier and if the correct system was not instigated quickly, the ramifications for the NHS "could be severe".
Speaking on BBC Radio 4 Today, Dickson said: "We are absolutely clear that contact tracking is the right thing to do, it is absolutely critical, and it must exist to prevent any notion of a second outbreak if the blockade" is being launched even more. "
He added that the government was acting "quite late [and] we haven't seen the details yet."
Meanwhile, another 338 people died of coronavirus in the UK from 17:00 BST on Wednesday, the Department of Health reported, bringing the total to 36,042.
Chris Hopson, chief executive of NHS Providers – a group of NHS members in England – told BBC Breakfast that its members "have not received clear information and instructions on what their role will be" in the system.
Security Minister James Brokenshire said Hopson's comments "will not be lost to anyone" in the Department of Health – and will be followed "on pace".
Downing Street confirmed that 24,000 manual contact trackers were hired, with plans to employ an additional 1,000 people before the start of testing, tracking and tracking on June 1.
The prime minister's official spokesman said "testing and tracking" will begin soon.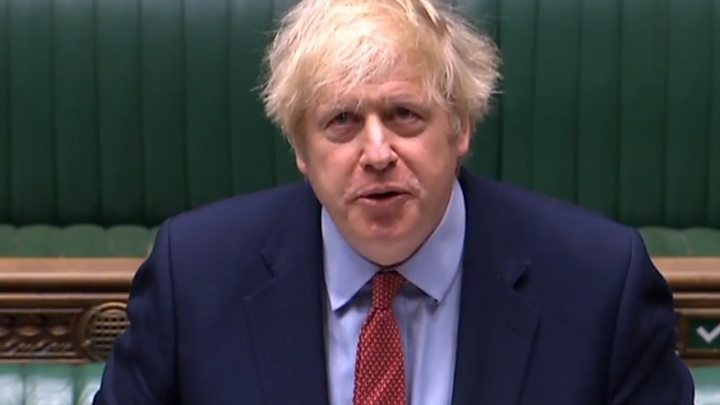 Media playback is not supported on your device
Media captionJohnson: "Test, tracking and tracking system deployed in the UK by June 1st"
On Wednesday, Johnson said that 25,000 contact trackers, capable of tracking 10,000 new cases per day, would be in effect by June 1.
This coincides with the earliest possible date for the gradual reopening of non-essential schools and shops in England.
Northern Ireland already has a telephone contact tracking system, while the Scottish government is currently testing one. The Welsh government wants its program to be operational by the end of May.
One of the government's most important scientific advisors previously said that an effective tracking system needed to be implemented before blocking restrictions could be changed.
Health leaders are still not reassured
What this letter indicates is that, despite all the rhetoric, the NHS Confederation still does not believe that the government has a robust plan for testing for viruses and tracking contacts of those who are infected.
And this happens even after the Prime Minister's declaration that this program will be in effect on June 1, with 25,000 contact tracers indicated.
A comprehensive testing and tracking system is seen as a necessity for blocking restrictions to be made more flexible, including the reopening of schools.
The confederation, which represents health leaders and organizations in England, Wales and Northern Ireland, welcomes Johnson's commitment to a testing and tracking program.
However, it is noted that its members are still not reassured and that, if there is no rapid action, there may be a second wave of infections and serious consequences for NHS patients and staff.
Brokenshire said the contact tracking system will be deployed on June 1 – with or without an NHS tracking application, which will be launched "in the coming weeks".
Keith Neal, of the University of Nottingham, said the app would be more useful if people were in public in places like supermarkets.
"That's where the app comes in, because it will later allow you to identify who you've been in contact with, but you don't know the name or the phone number," he said.
"We can do contact tracking, even without the app, because it's a matter of finding the highest-risk contacts in close and long-term contact, and you tend to only have close and long-term contact with people you really know."
Contact screening for the coronavirus began when the UK identified its first two cases in late January.
But it was stopped in mid-March, after England's medical director Chris Whitty said that "it is no longer necessary to identify all cases".
On Wednesday, labor leader Sir Keir Starmer questioned Johnson about this decision, describing it as a "huge hole in our defenses".
In response, the prime minister said he was "confident" that England would have a tracking operation that would allow the country to make "progress".
Contact tracking is already being used in Hong Kong, Singapore and Germany.
On Thursday, the government also announced that it had reached an agreement to make antibody tests for the virus available on the NHS.
These tests check whether a person has had coronavirus and would be prioritized by the NHS and healthcare professionals.
The government's surveillance program shows that the number of coronavirus cases in the community has remained relatively stable, with one in 400 people infected in England.
The Office of National Statistics surveyed nearly 15,000 people between May 4 and 17, finding 0.25% of participants tested positive for Covid-19 – down from 0.27% last week.
This suggests that about 137,000 people in England may be infected at the moment.
MINDFUL MIX: calming bands to help you relax
LOUIS THEROUX: The 15 songs that caught him in confinement
Content available in the UK only
In other developments:
The prime minister is facing a possible rebellion by some conservative lawmakers after he rejected requests to eliminate the fees that healthcare professionals abroad have to pay to use the NHS
Schools in Scotland will not reopen until the new school year begins after August 11, as part of a four-phase "route map" to relax blocking restrictions
The Welsh government has been reported to the Equality and Human Rights Commission, considering that testing in nursing homes is "very slow"
Northern Ireland Education Minister Peter Weir said the school reopening will begin in the "main cohort years" in August, followed by a phased provision for all students in September
Crimes in England and Wales fell by a quarter in the last four weeks of the blockade, according to the National Council of Chiefs of Police. But domestic abuse incidents increased by 4%, while attacks on emergency workers increased by 14%
Facebook boss Mark Zuckerberg defended the social media giant's actions on coronavirus misinformation, saying content that would likely cause "imminent" damage would be removed
EasyJet will resume a small number of domestic flights mainly from 22 European airports as of June 15, but will require the crew and customers to wear masks
And the head of the World Health Organization warned that the pandemic is far from over amid the biggest daily increase in global cases
Have you signed up for contact tracking jobs? Do you live on the Isle of Wight and use the NHS contact tracking application? Share your experiences by email haveyoursay@bbc.co.uk.
Please include a contact number if you are willing to speak to a BBC journalist. You can also contact us in the following ways:
WhatsApp: +44 7756 165803
Tweet: @BBC_HaveYourSay
Please read our terms and conditions and privacy policy