Image copyright
PA Media
Image subtitle
The Prime Minister chaired the Saturday morning Covid-19 meeting via video link
The prime minister warned that the coronavirus crisis will worsen before it gets better, in a letter sent to all UK households.
Boris Johnson, who is self-insulating after testing positive for Covid-19, says that stricter restrictions can be adopted if necessary.
The British will also receive a leaflet detailing the government's rules for leaving home and health information.
The criticism follows the clarity of government councils so far.
The number of people who died of coronavirus in the UK reached 1,019, with another 260 deaths announced on Saturday.
There are currently 17,089 confirmed cases in the UK.
In the letter sent to 30 million families at an estimated cost of £ 5.8 million, Johnson wrote: "From the beginning, we tried to take the right measures at the right time.
"We will not hesitate to go any further, if that is what scientific and medical advice tells us to do."
Difficult measures to combat the spread of coronavirus, including the ban on public meetings of more than two people and the closure of stores selling non-essential goods, were introduced last week.
"It is important that I speak to you – we know that things get worse before they get better," says the letter.
"But we are making the right preparations and the more we follow the rules, the less lives will be lost and the sooner they will return to normal."
Experts said they expected the number of coronavirus cases and deaths to continue to increase over the next two to three weeks, before the effects of social distance measures and restrictions on everyday life have an impact.
Responding to reports, the current measures may be in place until June, Scottish Medical Director Catherine Calderwood told BBC Radio 4 Broadcasting House: "The modeling that has been done, and that I have seen, has always said that we need at least at least 13 weeks of measures to prevent this virus from spreading among people.
"When you have a shorter period, as I understand other countries, as soon as you suspend the measures, the virus returns again, because you have not prevented it from transmitting among many people."
Cabinet Minister Michael Gove declined to say how long the restrictions could last, but said that everyone "needs to prepare for a significant period when these measures are still in place".
"I would like to predict when this will end," he said. The peak date of the virus "depends on all of our behavior," he added, saying, "It is not a fixed point."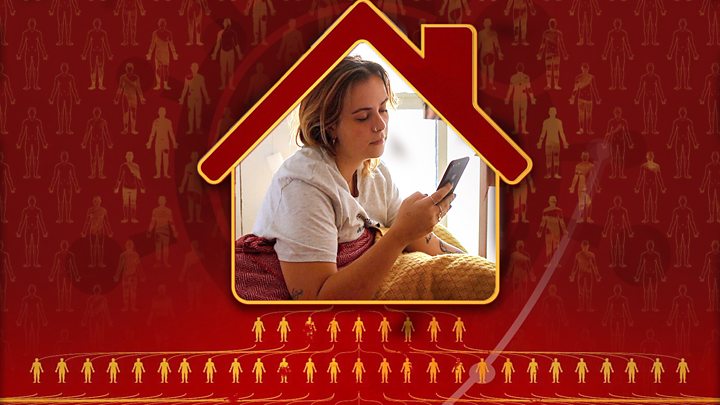 Media playback is not supported on your device
How staying at home can stop the coronavirus
In his letter, Johnson describes the pandemic as a "time of national emergency" and reiterates the government's guidance to stay home to avoid putting pressure on the NHS so that lives are saved.
The prime minister acknowledges that the restrictions will have a financial impact on families.
However, writing after the ministers revealed billions of pounds of aid to workers and businesses, he says: "The government will do whatever it takes to help it survive and put food on the table."
Johnson also praises the work of doctors, nurses and other caregivers, as well as the hundreds of thousands of people who have volunteered to help the most vulnerable.
The leaflet sent with the letter includes guidance on hand washing, an explanation of coronavirus symptoms, government rules on leaving the home, and advice on protecting vulnerable people.
Meanwhile, new powers, including fines of up to £ 5,000, to impose guidelines on people who stay at home and businesses that are closed came into effect in Northern Ireland on Saturday night.
The maximum fine will be reserved for companies, but individuals may face a fine of up to £ 960 if they fail to comply.
In England and Wales, people who ignore the restrictions can receive a fine of £ 60 initially and a further £ 120 for a second offense. Fines in England will reach a maximum of £ 960 for repeat offenses.
It occurs when former Prime Minister Tony Blair suggested that "mass testing" was needed to prevent another wave of virus cases when the restrictions were finally eased, reporting on Sky News' Sophy Ridge on Sunday: "You need an understanding very clear who bought it and who doesn't. "
Health Secretary Matt Hancock said the government was now testing 10,000 people a day and was "on track" to test 25,000 by mid-April. Testing has also been stepped up for frontline hospital staff to see if they have the virus.
In other developments:
The first of three flights chartered by the Ministry of Foreign Affairs to take home British tourists trapped in Peru will leave the capital Lima on Sunday
The Duke and Duchess of Cambridge are supporting a Public Health initiative in England, giving tips on how to take care of their mental health during the pandemic, as the government provides additional £ 5 million in funding to charities to expand their services
More than 750 St John Ambulance volunteers volunteered to help at the temporary hospital set up in London's Excel center to meet the demand for intensive care beds
Food packages have started to be delivered to the most vulnerable people in England, who are being instructed to stay home for the next three months to protect them from the coronavirus
Scotland's Secretary of State, Alister Jack, is self-isolating after developing coronavirus symptoms. It is said to have mild symptoms, but has not been tested for Covid-19.

Interior Secretary Priti Patel has promised to protect victims of domestic abuse, who she says are particularly at risk during the pandemic due to the need to stay home.

Greater Manchester Mayor Andy Burnham said he has received about 300 complaints from employees and the public about companies that do not follow social detachment guidelines
The Foreign Ministry said it was working 24 hours a day to support British travelers imprisoned in India amid a government blockade
Like the prime minister, Health Secretary Matt Hancock also isolated himself after testing positive for the virus. The UK's medical director, Prof. Chris Whitty, is also self-insulating, but has not had positive results.